cross

tv
crosstv generates exact audience reach and behavioral data about smart TVs households connected to the internet via HbbTV standard. It makes TV audience data objectively measurable and transparent for TV planning, media sales, advertising impact measurements and audience retargeting online. GDRP-compliant data comparisons provide a new TV research approach thanks to the generated insights into the cross-media behavior and socio-demographic structure of the TV audience.
Connected TV (CTV) and HbbTV Technology
Thanks to their CTV and HbbTV capabilities Smart TVs build a bridge from linear TV to the digital, interactive world of the Internet. These new video distribution channels enable the use of modern online tracking and analysis approaches, create full transparency for advertisers and enable a more efficient use of TV budgets and inventory.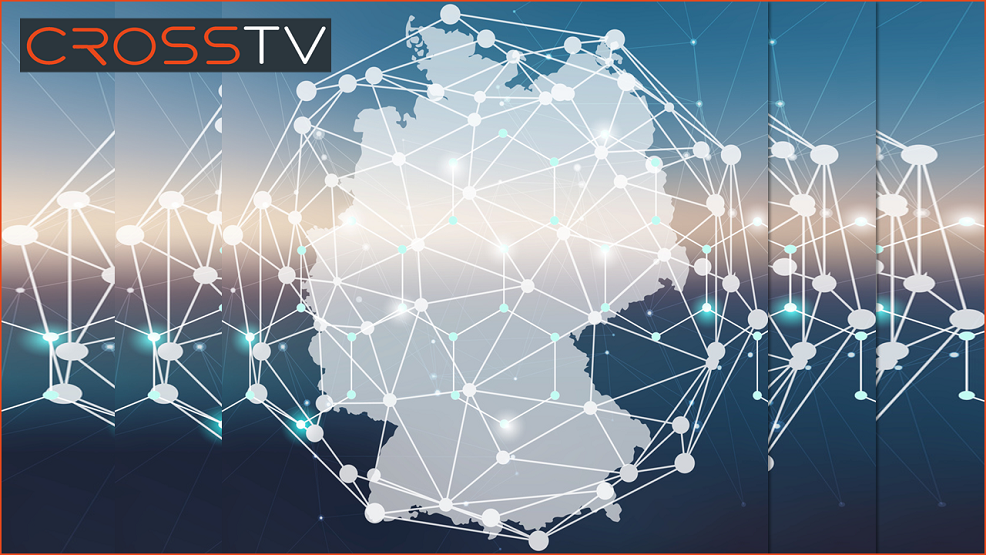 CTV and HbbTV reach
In 2021, the proportion of German TV households with Smart TVs connected to the Internet was around 51.2 percent. This corresponds to a technical reach of 19.8 million households or around 29 million viewers, which increases with every new television sold.
How does

crosstv

work?
crosstv receives data about the viewing behavior of a smart TV device from various sources – for example from the HbbTV browser, the tracker from a played CTV advertising medium or from streaming platforms. The processed data enables detailed insights into viewing behaviour and online response of households.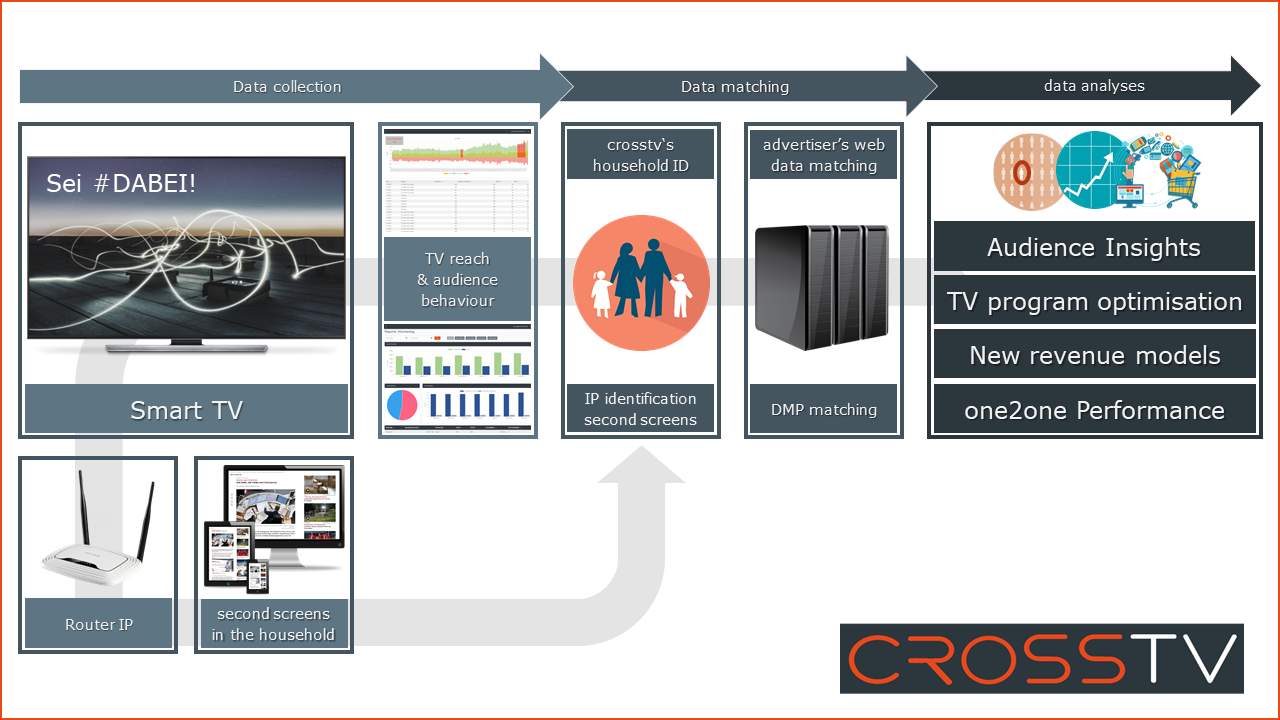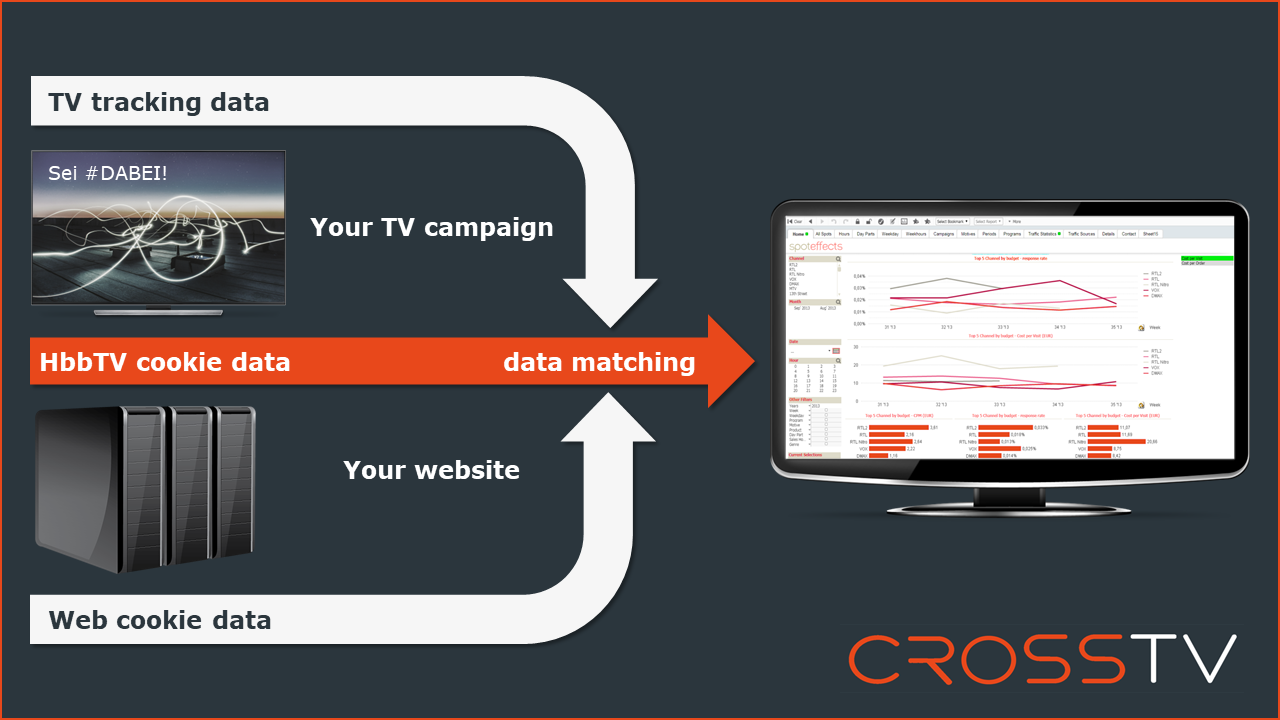 The revolution in peformance tracking one2one TV attribution
GDRP-compliant IP address matching of TV viewers and visitors to the advertised websites enables for the first time direct monitoring and analysis of the TV impact effect, as well as precise cross-media re-targeting of TV viewers.
TV audience measurement
Socio-demographic findings are generated on the basis of a GDPR-compliant matching of Smart TV IP addresses of individual TV households with reliable and daily updated data from various DMPs with information about over 36 million German internet users.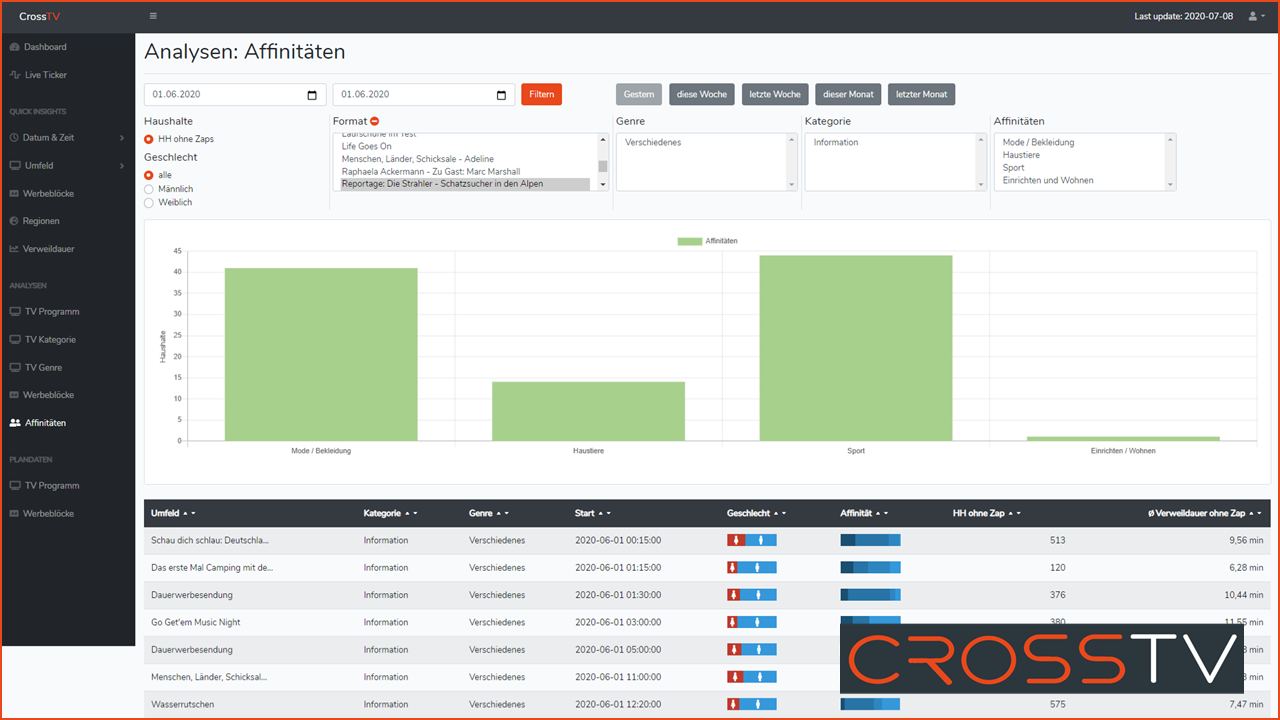 TV program optimization
The objective TV reach data analyses in the crosstv online tool provide linear broadcasters with the basis for optimized program planning and delivers convincing arguments for successful media sales. Particularly small broadcasters with limited transparency on their program success can benefit from our technology.
Second Screen Targeting
The real-time audience insights enable synchronized low spread communication with selected target groups via second screen, familiar from online marketing. We call this online augmentation of TV campaigns tvextension.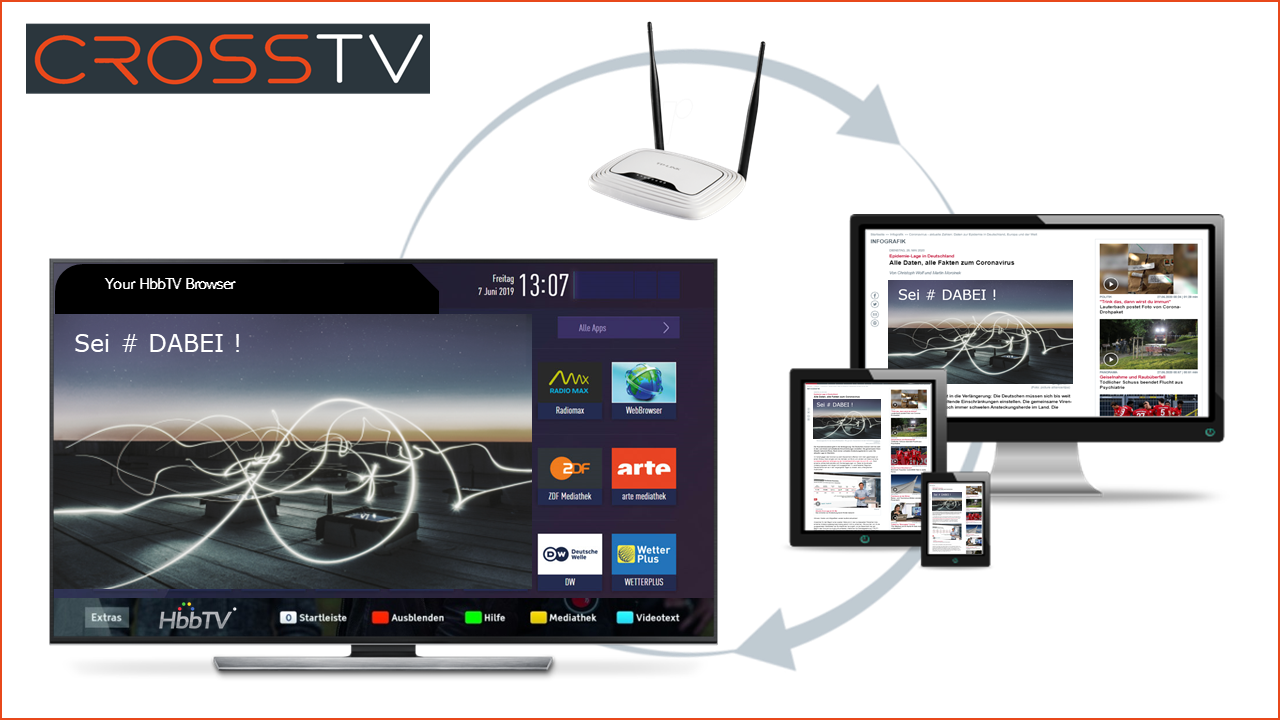 The

crosstv

online

tool

In-depth TV reach and audience behavior analysis
Dashboard
---
The dashboard delivers a quick overview. All key facts here are predefined but can be set and displayed for any time period.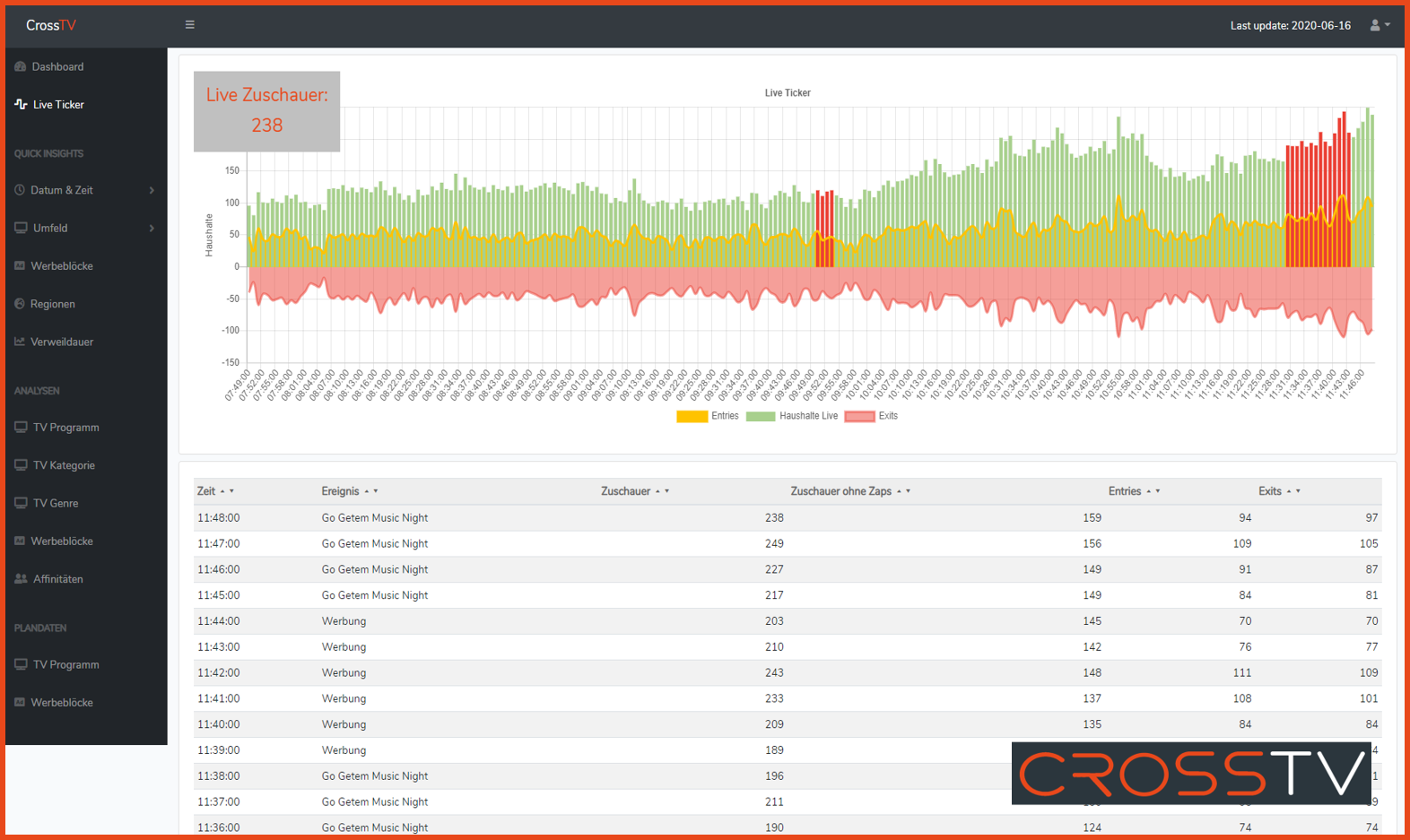 Livetracker
---
In addition to live performance data, retrospective viewer activity for different periods can also be displayed here.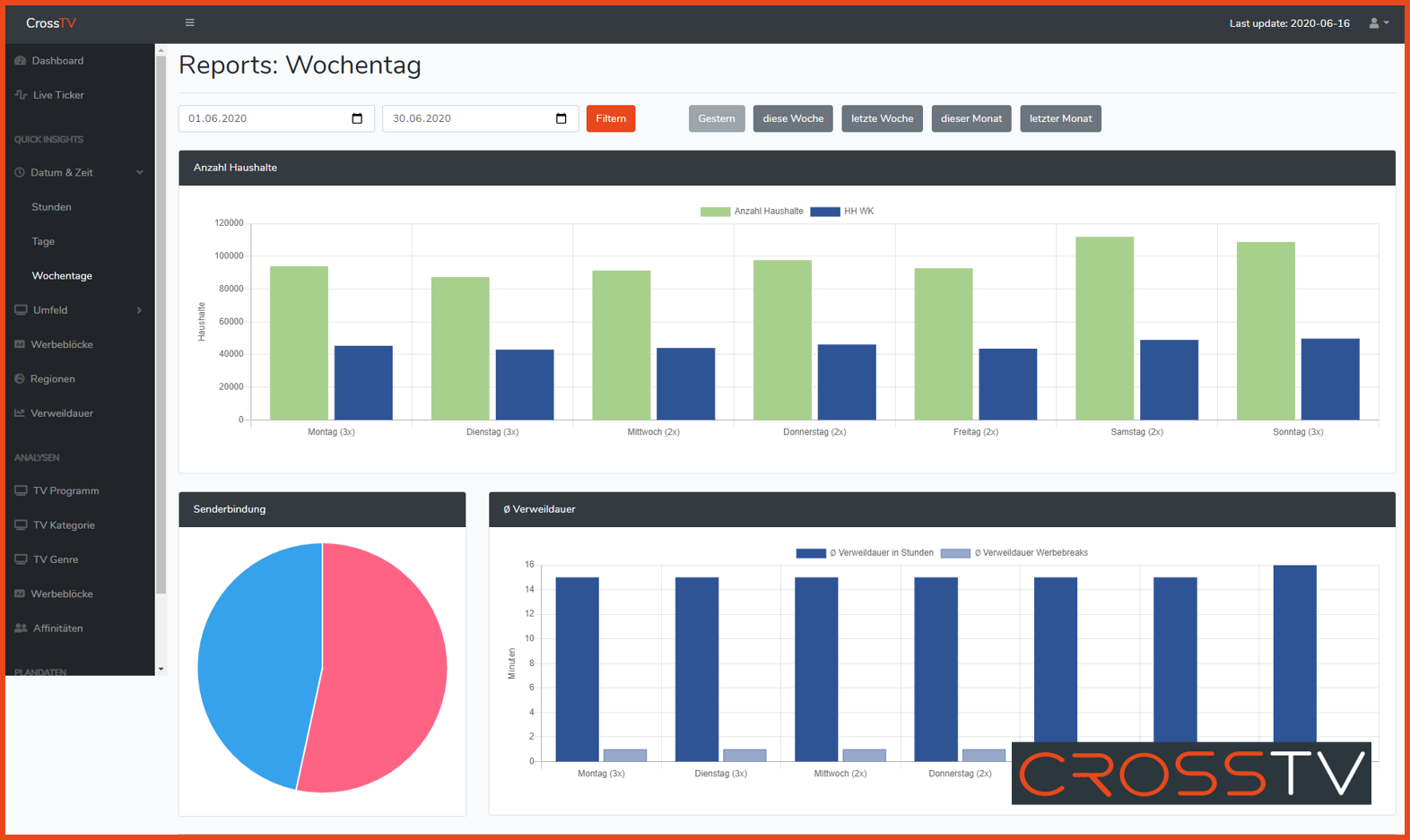 Quick Insights
---
In Quick Insights data can be swiftly and easily accessed and graphically displayed based on predetermined parameters.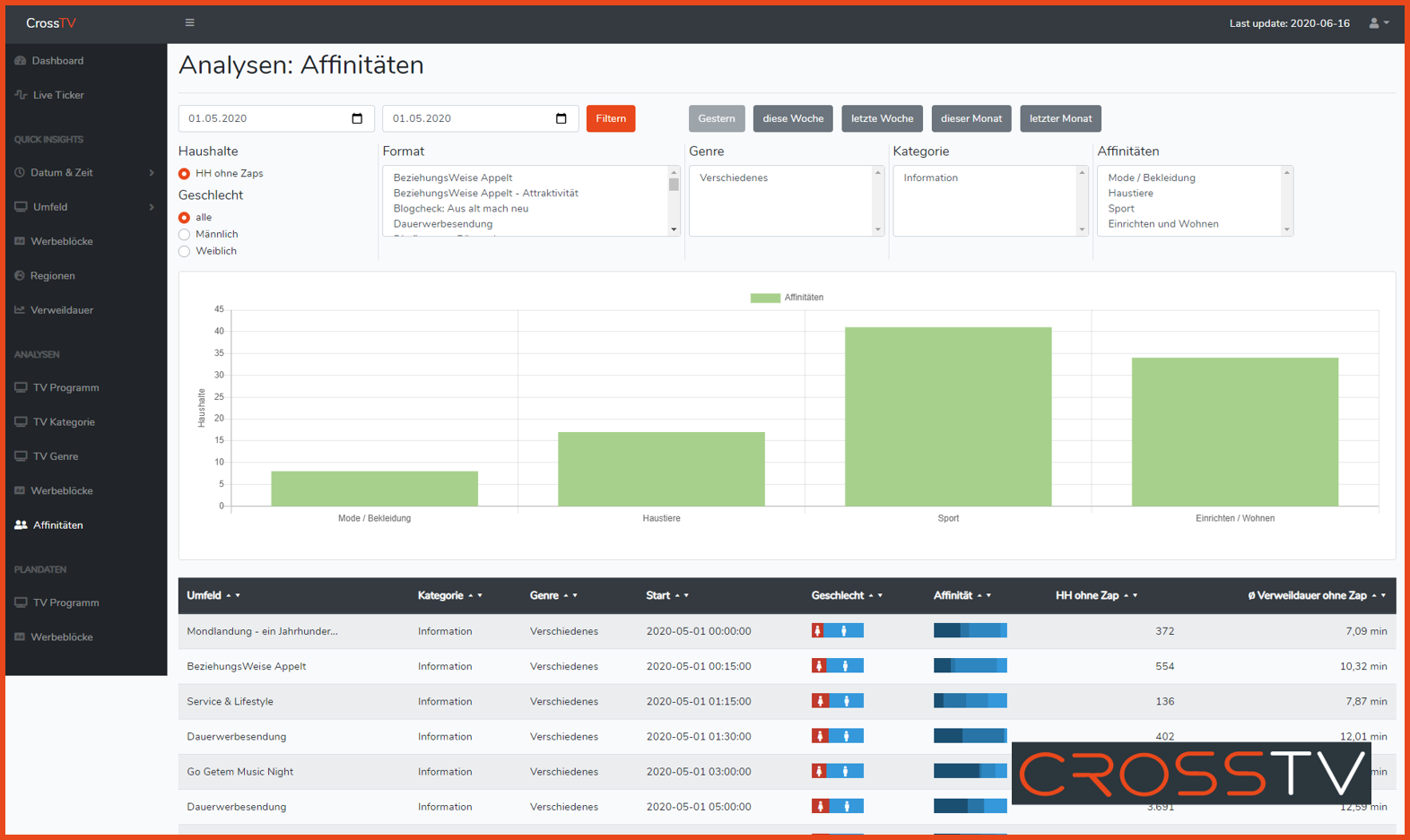 Audience Analysis
---
With Audience Analysis specific questions can be addressed via different combinations of filter and definition functions.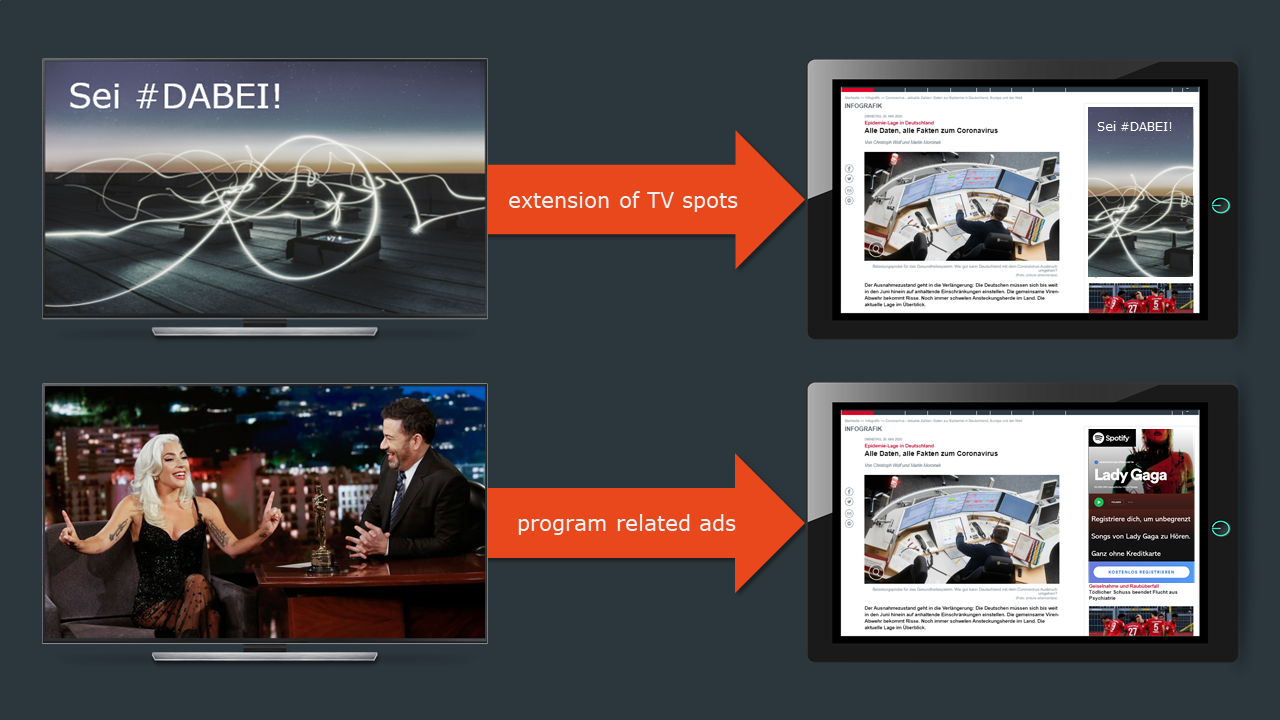 The service offers low spread and efficient targeting of the second screen users based on socio-demographic data generated by DMP data matching. Parallel online ads as an extension of TV spots as well as program related online ads that target viewers' emotions at the right moment can be applied depending on the use case.